Most people I meet, including my clients, pretty well always make a confidential confession, in a self-berating sort of way. When the topic of weight loss comes up, they make a number of similar claims. "If only I exercised more, I'd weigh less." "I used to exercise regularly, and I weighed less then." "I'm so lazy. I don't exercise, so I'll never lose weight." Are these comments justified? Is exercise necessary for weight loss to occur?
It has been repeated endlessly over the past few decades: "Just eat less and exercise more, and you'll lose all the weight that you need to!" In actual fact, exercise alone has very few benefits if we are trying to shed some pounds.[i]
Here's the actual truth: There are lots of benefits to exercise. However, weight loss, except for super-active athletes, is not one of them. Please don't leave the page yet. I've got some proof for you coming right up. Keep reading!
When we exercise, our bodies are brilliant at being able to compensate for the energy that we expended. Guess what happens? We end up eating more. Q: Why would we do that? A: We get hungry after we've been moving for a while! Remember the old saying, "I worked up an appetite."? It was true!
There are plenty of reliable studies that have shown that subjects compensated for the energy expended while exercising by, you guessed it, eating more.[ii] To make matters worse, how many times have you heard someone say, "I deserve this ice cream. I just finished a long workout at the gym!" So, we eat more either consciously or unconsciously, but you're seeing the similarity, right? It appears as though we always end up eating more, despite our virtuous intentions.
I will be writing more in the future about the benefits of exercise (spoiler alert: our brains benefit the most). We definitely feel better if we have a regular exercise routine — there are plenty of studies that show that regular exercise outperforms anti-depressants in relieving the symptoms of depression.[iii]
But can we exercise our way out of poor food and beverage choices? Short answer? No.
Rather than thinking that as soon as we can establish a regular exercise routine, we'll definitely start losing a few ounces, it appears as though we would be much better off if we paid a little more attention to the quality and quantity of food that we eat, as well as when we eat it. (think "midnight snacks"…) (you may want to avoid them…)
So, should we move more? Yes. Will doing so help us to lose weight? Not really. What actually happens is that the enjoyable movement makes us feel better about ourselves, so we end up making better food choices. See Charles Duhigg's clear explanation of these "keystone habits" in chapter four of his excellent book on how habits are formed.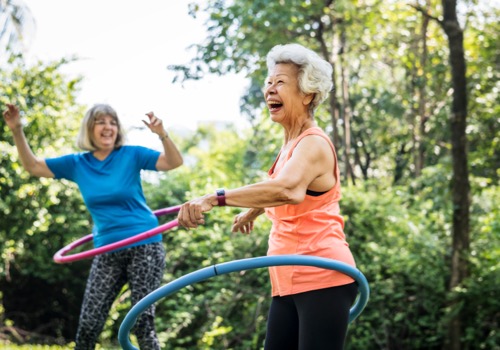 Please, do try to look for a form of exercise that you enjoy! Enjoyable physical activity can:
Boost your mood
Keep your brain young
Keep your joints limber
Be an opportunity for making new friends
Get you outside in nature, which has many benefits
Strengthen your muscles
Help you to sleep better
Decrease your stress levels
Have some positive effects on your heart health [iv]
But please don't keep checking your scale. If you want to lose weight, there are other habits that will need to be developed, and these have very little to do with exercise…
Stay tuned for more posts on the topic of staying active and its proper place in our lives as we age. Be the first to find out about a new post by signing up here.
Trying to change our habits on our own isn't easy. Contact me for a complimentary, no-obligation, introductory coaching session where you will find out if having a coach to support you in your desire to live longer and better is what will move you towards your goals, with less frustration.
Read my story by hitting the green button below.
---